Kentucky state senator to bring hemp bill up for vote
By The Associated Press
Posted January 28, 2013 at 3:13 p.m.
FRANKFORT, Ky. — The chairman of the Senate Agriculture Committee sounded upbeat Monday about prospects for his bill that would regulate industrial hemp production in Kentucky if the federal government lifts its decades-long ban on the crop that once was a Bluegrass state staple.
Republican Sen. Paul Hornback of Shelbyville said Monday he intends to bring the hemp bill up for a vote in his committee, which is expected to review the legislation at a Feb. 11 hearing. Hemp proponent U.S. Sen. Rand Paul is scheduled to appear at the hearing and put his political weight behind the measure.
Don't call it a 'Weed;' Momentum for hemp in Ky
by Joe Arnold
WHAS11.com
Posted on January 28, 2013 at 8:07 AM
Updated yesterday at 10:38 AM
FRANKFORT, Ky (WHAS11) — Reinvigorated after a ten year dormancy, Kentucky's Industrial Hemp Commission meets Monday morning with an apparent new momentum.
The effort recently gained the endorsement of the Kentucky Chamber of Commerce and bills that would legalize the crop are expected to be debated when the General Assembly's "short session" resumes in February. 
Sen. Paul Hornback (R-Shelbyville), a sponsor of one of the bills (SB50) and a statutory member of the commission, is scheduled to attend.
Kentucky Narcotic Officer's Association: No to Legalizing Hemp
By Kevin Willis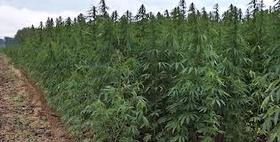 The recent talk in Frankfort about legalizing industrial hemp hasn't convinced the head of the Kentucky Narcotic Officer's Association. Tommy Loving, who also leads the Warren County Drug Task, says he fears marijuana growers will plant their crops next to hemp, making it difficult for law enforcement to distinguish between the two.
Some agriculture experts say planting the two crops together would destroy the potency of the marijuana over time, but Loving told WKU Public Radio that wouldn't deter those looking to hide from law enforcement.
"If you plant marijuana with hemp surrounding it, for instance, in one growing season, you're not going to diminish that much of the THC content in the marijuana. So your marijuana crop is still going to be a sellable commodity," said Loving.
KSP: Hemp backers 'naive' after endorsing Senate bill
WHAS11.com
Posted on January 28, 2013 at 4:32 PM
Updated today at 8:20 AM
FRANKFORT, Ky (WHAS11) — With momentum building for an effort to license hemp farming in Kentucky, law enforcement leaders lashed out on Monday, saying hemp's supporters are looking at the issue "through rose-colored glasses."
The pushback came as Kentucky's Industrial Hemp Commission met at the Agriculture Commissioner's offices and voted to endorse Senate hemp legislation. 
All three representatives of law enforcement on the commission were absent, including Operation UNITE's Dan Smoot who joined in the news release from the Kentucky Narcotic Officers' Association in opposition to Senate Bill 50 and House Bill 33.