(CNN)Two Australians who'd been convicted of drug smuggling were executed Tuesday in Indonesia, Australian Foreign Minister Julie Bishop said at a press conference.
The Australians were among the eight drug smugglers put to death on Tuesday, the Reuters news agency has reported, citing local media. The prisoners faced a 12-man firing squad on Nusa Kambangan island in Central Java.
Australian Prime Minister Tony Abbott, appearing at a press conference, condemned the executions and said Australia would immediately withdraw its ambassador to Indonesia for consultations.
Abbott called the executions "cruel and unnecessary" because both men, Andrew Chan and Myuran Sukumaran, had been "fully rehabilitated" during a decade in prison.
Abbott didn't say what permanent actions, if any, would be taken against Indonesia. "This is a dark moment in the relationship, but I'm sure the relationship will be restored," he said.
The Indonesian government had announced that nine prisoners would be executed, but according to local reports, Filipina Mary Jane Veloso was spared, at least for now.
Lawyers fighting to delay the death of Veloso, a domestic helper and mother of two, have said they've given up their bid after her second legal review was rejected on Monday. This came despite a last-minute personal appeal from Philippines President Benigno Aquino to Indonesian counterpart President Joko Widodo.
The Australians executed were part of the so-called Bali Nine.
Chan married his longtime girlfriend Febyanti Herewila in prison on Monday.
The executions of Sukumaran and Chan come despite the fact that both this week received a court date of May 12 to hear an outstanding legal challenge.
Lawyers for the men also say Indonesia's Judicial Commission has yet to properly investigate claims of corruption during their original trial and sentencing. They say three of the men's Indonesian lawyers had been summoned to attend the commission on May 7.
It's a day their families and friends hoped would never come, but it's also one that Indonesia, despite years of protest and legal appeals, has insisted had to happen.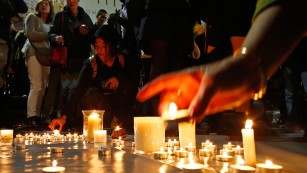 Under Indonesian law, the death penalty is carried out by a 12-man firing squad, although only three guns are loaded with live ammunition.
Prisoners are given the choice of whether to stand or sit, and whether they want to wear a blindfold, hood or nothing. The shots — aimed at the heart — are fired from between 5 and 10 meters (16 to 33 feet), according to Amnesty International.
On Tuesday, the prisoners' families were heard wailing as they boarded a boat for what's expected to be their final goodbyes. Reporters at the port in Cilacap described harrowing scenes on Twitter.
"Myu's sister Brintha collapsed in screams. Helen Chan was supported by 2 women. Truly heartbreaking. #Bali9," wrote Nine News reporter Jayne Azzopardi.