By Elizabeth Cohen, CNN Senior Medical Correspondent
Video produced by John Bonifield, CNN
Updated 12:16 PM ET, Mon November 28, 2016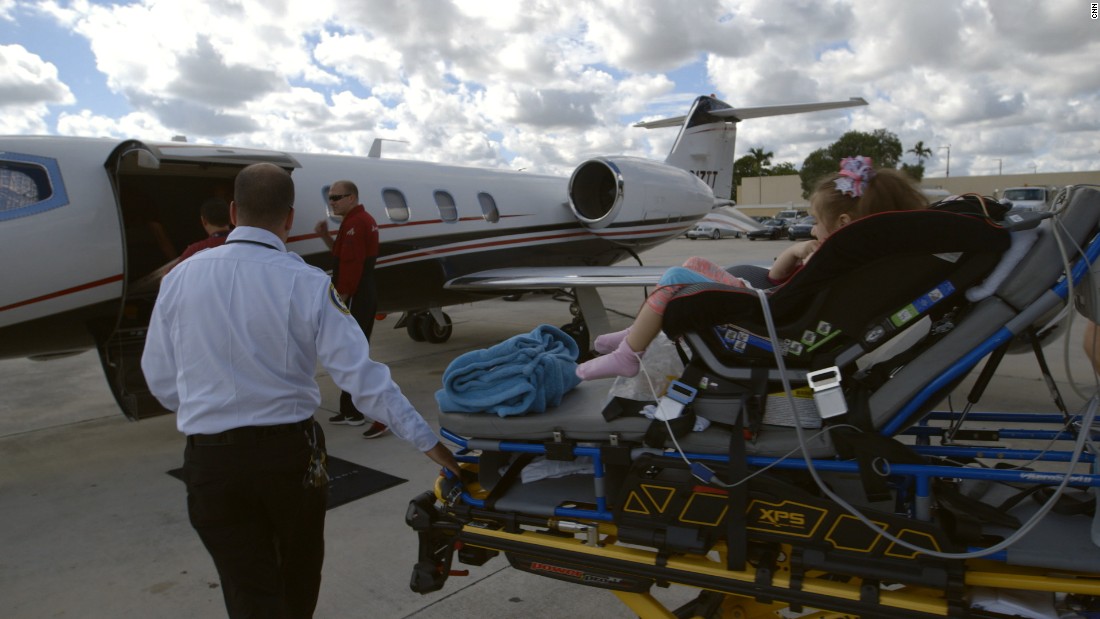 This is the second part of a series on health care refugees. Read the first part here.
(CNN)Rich and Kim Muszynski know when their 5-year-old daughter, Abby, is about to have a grand mal seizure because her pupils enlarge, and she'll seem to fixate at something in the distance that only she can see.
Then it starts. Abby's extremities shake. She gasps for air.
By the time she turned 3, Abby had tried about eight different anti-seizure medications. None of them worked very well. Panicked to see their daughter getting worse and worse, the Muszynskis drove three hours to Orlando to see Dr. Ngoc Minh Le, a board certified pediatric neurologist and epileptologist.
Le told them that chances of another anti-seizure drug working on Abby were tiny. He recommended medical marijuana. The timing was right: Just months before, Gov. Rick Scott had legalized the use of a type of non-euphoric cannabis called Charlotte's Web.
The formulation had been a miracle for a little girl with epilepsy named Charlotte Figi. The Muszynskis had seen her story on Dr. Sanjay Gupta's CNN documentary "Weed."
Charlotte's Web did help Abby, but not as much as it had helped Charlotte. She still was having about two grand mal seizures a week, each lasting about eight to 10 minutes.
Le explained to Kim and Rich that Charlotte's Web has only tiny amounts of THC, one of the psychoactive ingredients in marijuana. Medical marijuana with higher levels of THC was Abby's best hope, he told them.
But at this point, in 2015, high-THC marijuana wasn't legal in Florida for Abby. To get it, the Muszynskis would have to move, leaving behind their friends and family, including two older children.
Kim thought about Colorado, where Charlotte Figi lived. She'd checked with parents of disabled children there, and they told her the state had a fair and efficient Medicaid program.
Getting to Colorado would be a challenge: Abby's doctors said it wasn't safe for her to fly on a commercial plane or to take a long car ride across the country.
The Muszynskis began their final fight with Florida Medicaid — one that would leave Kim and Abby homeless for several days.
Kim says that in mid-August, she started talking to Medicaid officials about getting an air ambulance to Colorado. On September 19, Rich drove the family car out to Colorado. They planned for Kim to attend the closing on their house in Boynton Beach on September 23 and leave on the air ambulance with Abby that afternoon.
Kim had emailed and spoken with various Florida officials, and it seemed to her that everything was in order. "Please give a call today so we can finalize travel arrangements!" Mary Joyce, a senior registered nurse supervisor at Children's Medical Services at the Florida Department of Health, wrote in an email to Kim on September 20.
But then several days passed, and there was still no final approval for the transport.
Their house sold, Kim and Abby were homeless. They moved in with Kim's best friend and her husband. All of Abby's equipment, like her bed with guardrails, was with Rich on their way to Colorado. Kim slept with Abby on the floor.
Abby's cries at night kept Kim's friends awake. Kim wrote emails begging Florida officials for help. But for the first time, she added someone not previously included on the email: this CNN reporter.
Three days later, she learned that the transport had been approved.
A spokeswoman for Florida's Agency for Health Care Administration gave this statement:
"In this case relocation services are not covered by Medicaid, per federal Medicaid guidelines. However, thanks to Safety Net funds made available by Governor Scott and the Legislature, the state supported this family by covering the costs to provide relocation services via the air ambulance of the mother's choice. Working with the family, the state arranged transport as quickly as possible," wrote the spokeswoman, Mallory McManus.