David A. Mann
Louisville Business First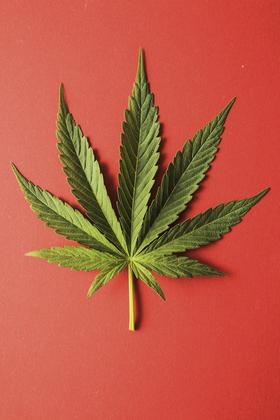 Is Kentucky behind the times on legalizing marijuana?
Today, American City Business Journals — Louisville Business First's parent company — posted several stories about the business opportunities surrounding marijuana. On our site this morning, we've had stories on how to invest in the cannabis industry and about figuring out the varying state laws related to legalized marijuana, among others.
It all got me thinking about whether Kentucky ever would legalize marijuana for medical use, so I decided to poke around on the subject. There has been some movement, including legislation introduced by Kentucky House Speaker Greg Stumbo earlier this year.
That said, the issue really isn't on the radar for organizations that probably would need to support it if legislation were to pass, such as the Kentucky Chamber of Commerce or the Kentucky Department of Agriculture.
Some of the biggest advocates for loosening Kentucky's marijuana laws to allow for medical marijuana use are in Louisville.
Sen. Perry Clark, who represents central and western Jefferson County, has introduced legislation that would allow for medicinal marijuana use at least three times. He points to what he calls "stacks of evidence" that show marijuana has medical value.
Many of his fellow legislators don't see it. Any time he and other supporters of medical marijuana have brought experts to testify about it before legislative committees they've been met with a pretty cold reception.
Jamie Montalvo, president of the nonprofit Kentuckians for Medicinal Marijuana, said he believes there is genuine fear among doctors to speak in favor of it. The state has been watching doctors closely of late with new regulations on prescription pain killers, he said.
"They don't want to stick their necks out," Montalvo said. "They don't want to do anything outside of the normal."
For the issue to get past the discussion phase, it likely would need some vocal supporters that just don't seem to be there right now.
For instance, the Kentucky Chamber of Commerce hasn't had serious discussions about whether to take a side on the issue at an executive level, said Bryan Sunderland, senior vice president of public affairs for the Frankfort-based organization. He acknowledged that some businesses claim to see a benefit from medicinal marijuana in states where it has been legalized. But he said he hasn't looked at all the evidence. It could be that companies seeing a benefit are doing so at the expense of others.
In Kentucky, those others could include the alcoholic beverage industry. In its annual report, Louisville-based Brown-Forman Corp. (NYSE: BF-B) talks about legalized marijuana posing a threat to its business.
Sunderland said that if the Kentucky Chamber were to weigh in on the issue in the near future, it would probably focus on workplace safety and employer liability.
The Kentucky Department of Agriculture isn't on board with legalizing marijuana, either. Instead, the department is focused solely on the development of industrial hemp as an agricultural crop.
"Over the past year, KDA has seen many out-of-state businesses show interest in Kentucky over states with legalized marijuana laws because we are focused singularly on hemp," Kristen Branscum, executive director in the KDA's office of marketing, said in an email. "The focus on industrial hemp gives Kentucky a competitive advantage in the marketplace, therefore KDA has no plans or interest in the legalization of marijuana."
The KDA says that because marijuana is illegal on a federal level, the risks to farmers greatly exceed the potential economic benefit. There are no federal protections for growers where it has been legalized, so farmers have serious issues with banking and engaging in commerce around what is a federally illegal crop, Branscum said.
"Even trademark protections are not afforded to growers and businesses in this situation," she wrote.
Legalizing marijuana is still a relatively recent phenomenon. And Dewey Clayton, professor of political science at the University of Louisville, said the state legislature is still a fairly conservative body. On issues like this or expanded gaming, the state usually is not out front.
"Kentucky is not a cutting-edge state," Clayton said. There have been instances where the state has been ahead of the rest of the country, such as with education reform in the 1990s and the creation of a health insurance exchange more recently.
"Every now and then, Kentucky will surprise you," Clayton said. "But generally speaking, we're not a bellwether state."