By Rob Canning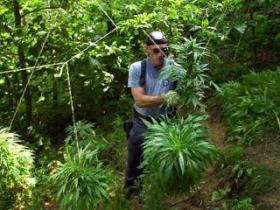 Illinois' legalization of medicinal marijuana takes effect January 1st and sets up a 4-year pilot program for state-run dispensaries and cultivation centers. While Illinois is predicted to enact some of the strictest regulations in the nation, law enforcement officials and prosecutors from neighboring states worry about transport of the drug over state lines.
Kentucky's McCracken County borders Illinois. County Attorney Michael Murphy said the state can still prosecute people for possession regardless of the source.
"Possession of marijuana in the state of Kentucky in accordance to federal law is still a crime," said Murphy. "So, the fact that somebody acquired it legally where they were before they transported it to Kentucky, they still could be charged locally. This is just another source of marijuana and, to me, the source becomes legally irrelevant; it's the simple possession that's the crime."
Murphy said the county court handles 10 to 15 simple possession charges each week. Murphy said people could also face federal ramifications for transport over state lines, but federal courts rarely prosecute for simple possession. Kentucky State Police Sergeant Richard Saint-Blancard said his main concern stems from drivers under the influence and he hopes Illinois' law won't increase that problem.
Tags: