by Ken Picard
November 08, 2017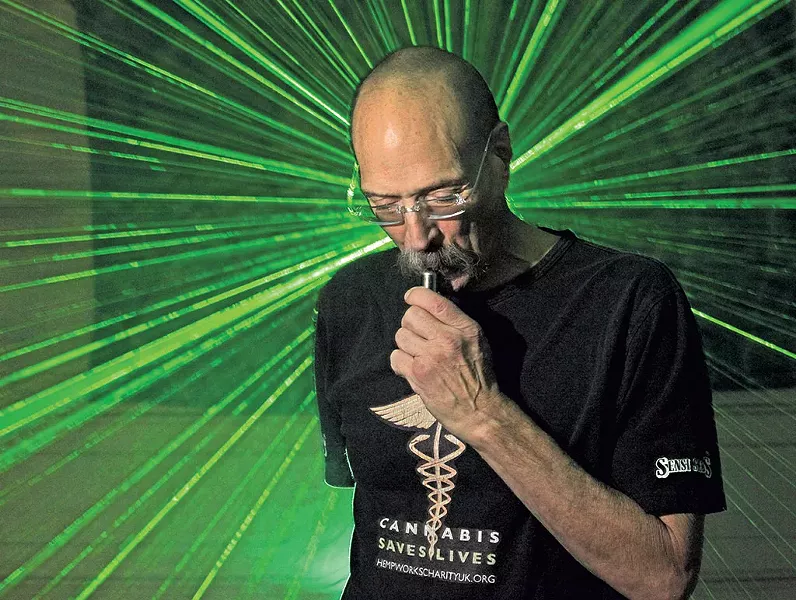 Bob Melamede was pissed off, which seemed out of character for a laid-back guy who laughs a lot. Plus, he'd begun the day as he always does — by ingesting 80 to 100 milligrams of oil containing tetrahydrocannabinol, the psychoactive compound in cannabis. That's enough THC to leave most stoners blissed out for hours.
But Melamede saw good reason to be indignant on a late September morning outside Burlington's Bern Gallery, where the annual Pipe Classic glassblowing competition was in full swing. A retired DNA researcher, microbiology professor and international cannabis activist, Melamede had heard that a Burlington police officer confiscated all the cannabis oil from a medical marijuana patient who'd flown into town for the event.
The patient, Courtney Soper, arrived at the gallery a few minutes later. The 40-year-old mother of three from Long Island, N.Y., confirmed that, after checking into her hotel the previous night, she had driven to an Old North End café to meet some friends who were also attending the glassblowing event. While she was parking her rental car, she said, a cop pulled her over for making an illegal U-turn.
After smelling marijuana on Soper, the cop searched her car and discovered the cannabis oil. Soper handed over her medical marijuana registry cards from New York and California, explaining that she uses the substance to treat several conditions, including chronic pain. The cop didn't arrest Soper or issue a ticket, but he took her drugs.
"I said, 'I have a bottle of Adderall in my bag, also prescribed by my doctor. That's a controlled substance, too,'" Soper told Melamede. "He didn't say a thing about that."
"Who's the government to tell us what kind of medicine we can use?" Melamede barked. "Fuck them!"
He was ready to make that point at the police station, but Soper nixed the idea for fear it could bring unwanted scrutiny to the Bern Gallery event. In a text to Seven Days, Burlington Police Chief Brandon del Pozo explained later that his officer was just following protocol: Vermont doesn't recognize medical marijuana cards from other states.
Meanwhile, several twenty- and thirty-somethings milling around outside the Bern Gallery recognized Melamede and greeted him with shouts of "Hey, Dr. Bob!"
As it happens, thousands of people know "Dr. Bob," who's not a physician but has a doctoral degree in molecular genetics and biochemistry. A former research professor who taught at the University of Vermont, New York Medical College and the University of Colorado, Melamede now appears regularly in the marijuana press and frequently speaks at international cannabis conventions. His presentations, some of which can be found on YouTube, invariably delve into the science of cannabis and its relationship to human health.